HOME | BIOS | DATES | IMAGES | LINKS | CD | BAND LIST | AUDIO & VIDEO | PRESS | MERCHANDISE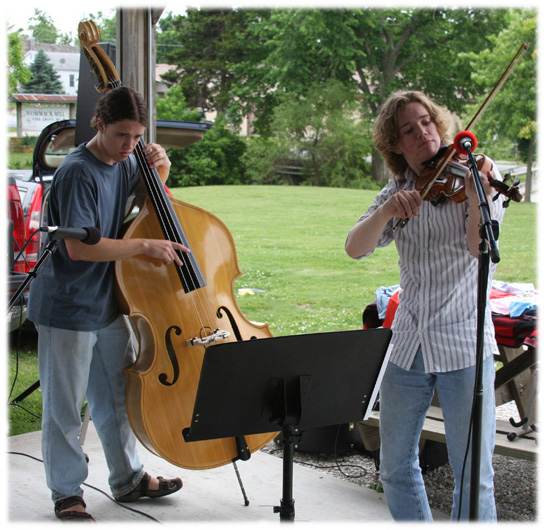 Welcome!
---
---
---

The Hiser Brothers are Kane (21) and Jacob (20). Kane plays bass, guitar, and piano. Jacob plays violin, piano, mandolin, percussion, and sings. We have 12 years of experience playing weddings, funerals, parties, restaurants, churches, festivals, and sharing the stage with bands such as the Amazing Rhythm Aces, Buddy Miles, Bernard Allison, Bob Margolin, and Pinetop Perkins. We perform all styles, from rock to classical, jazz to bluegrass. Three CD's are now available: "Drivin' The Blues" (released Oct. 2006) presents a variety of blues originals. "You Gave Everything" offers originals in blues, country, rock, and modern classical styles. "A Little Bit of Fiddlin'" holds a mixture of fiddle music including bluegrass, cajun, Scotch/Irish, blues, and one Jacob Hiser original.
Organizations We Are Affiliated With
Blues Society of the Ozarks in Springfield, MO
Kansas City Blues Society in Kansas City, MO.
Lake of the Ozarks Blues Society in Osage Beach, MO.
Missouri Film Alliance in Springfield, MO.
HOME | BIOS | DATES | IMAGES | LINKS | CD | BAND LIST | AUDIO & VIDEO | PRESS | MERCHANDISE


Contact and Booking Information:
Hiser Brothers Music Productions, LLC.
PO Box 404 Fair Grove, Mo. 65648
letsjam2@msn.com
(417) 759-2620


programming, design and photography by mediamanipulation, Jacob Hiser, and John Hiser